Hi there, it's Sato.  The final samples of "iPhone6/6s case" is here!
This case's greatest feature is the lumpy side of flip, it helps to hold iPhone more secure. We believed this would become a very attractive and smart case from the beginning, but we didn't imagine that would be this hard!! Giving these lumps to the natural leather was a tough work. With the leather technique, "Shibori", we tried many kinds of leathers, and changed the size and depth of lumps. The early samples had concave holes…Ah, memories of these days come into my head.
And now we are proud to have the final case sample!! After many tests of heat, pressure and moist, we reached this beautiful lumpy shape. This piece will be shaped by giving heavy pressure twice in the production process. It is the fruit of much labor on our craftsman and now each lump looks adorable to me!
We also decided to make reverse opening type. I personally prefer to hold iPhone on the left side of the case.
There are 3 colour choices and our favourite Italian vege-tan leather, Pueblo gives you a joy to develop the beautiful texture and colour.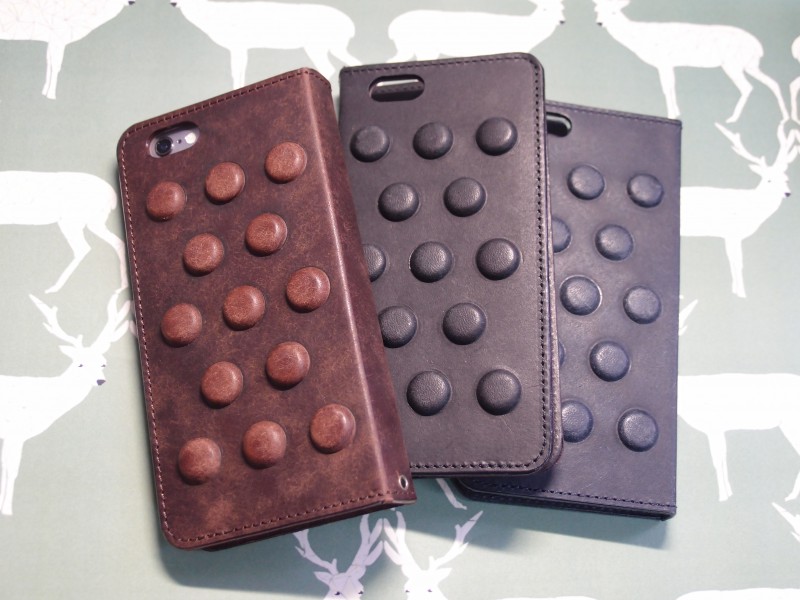 We got a good news of delivery from the factory today, so you will see our brand-new item very very soon!! Please wait a bit:)